It's time to take the next step and start your learning journey. Don't worry if you still have questions, you can talk to our team and tutors at the enrolment. We look forward to welcoming you to Kirklees College.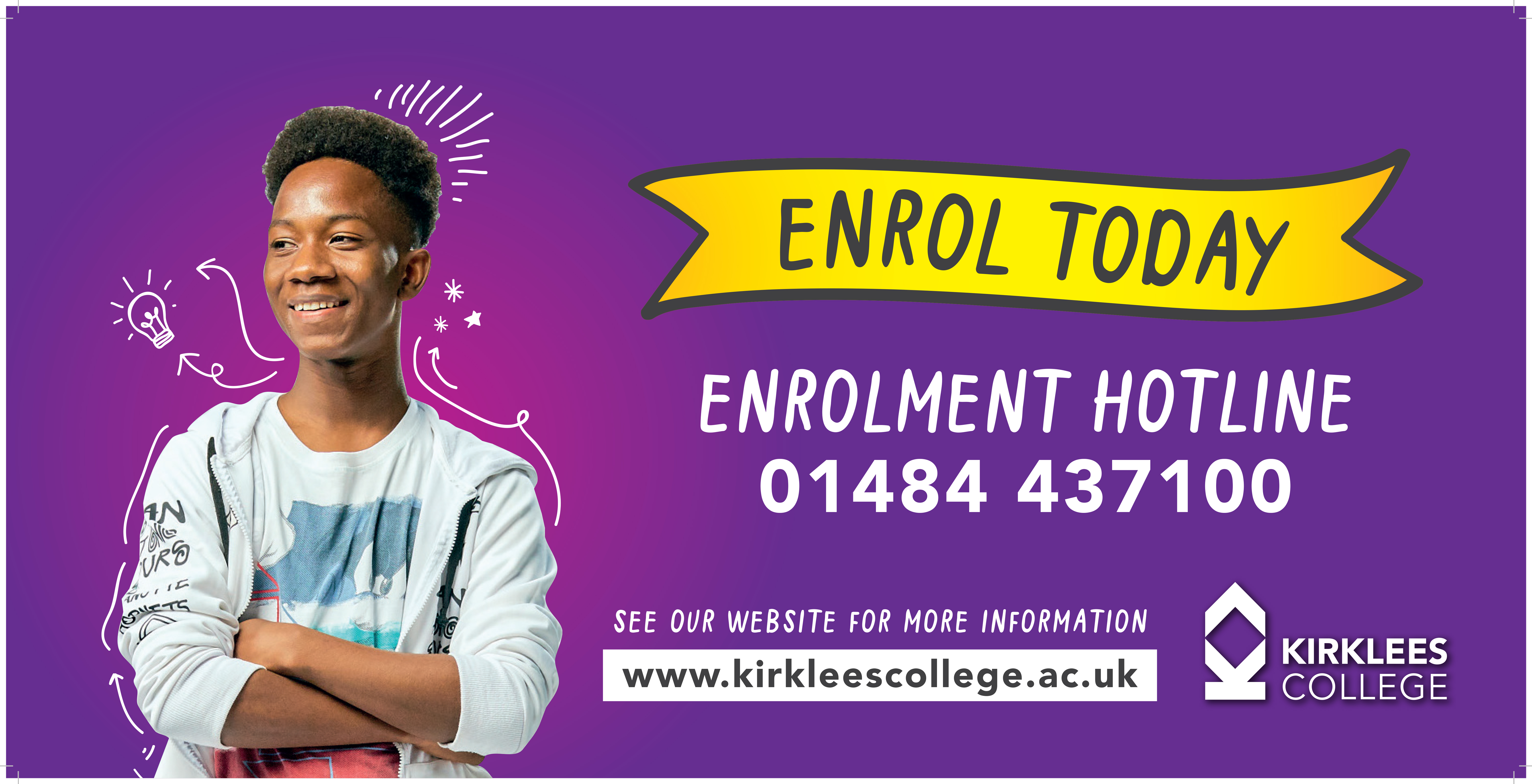 Potential students can now enrol online, over the phone or in person. However, unlike in previous years you can't just turn up in person at college to enrol. If you would like to join a course then check the details of the course (on website or prospectus) you are interested in for information on how to enrol. Unfortunately, we will not be able to enrol anyone who arrives at college in person who doesn't not have an enrolment appointment. Enrolment Hotline
01484 437100
available Monday to Thursday 9am to 6pm and Friday 9am to 4.30pm
Whether you're a new or returning student you must enrol to confirm your status as a Kirklees College student.
Enrolment involves confirming your personal information and finalising your offer of a place, especially if it depends on exam results or assessment grades.
NOTE: In order to enrol on a course you MUST first apply. If you haven't yet applied, please call our Enrolment Hotline 01484 437100
How are we keeping our Students and Staff safe at Enrolment?
We aim to enrol the majority of our students either over the phone, or online, however in some instances you will be required to come into college to enrol. Appointments will start from 20 August (applicants only) with non-applicant appointments available from Monday 24 August. We have set appointments out so that we don't have too many people in the college buildings at any one time. For this reason, different curriculum areas are enrolling on different days, please check the dates.
If you do come into college to enrol we ask that, where possible, you only bring one other person with you. We request that 2 metre social distancing is observed when you are in college and that everyone uses hand sanitiser when they enter the college. You do not need to wear a face covering, but you can if you prefer. We have clearly marked out enrolment routes with one way routes and reminders about the 2 meter distancing. Throughout enrolment our curriculum staff will be well spaced out, and have access to face visors and plastic screens.
We request that if you, or anyone in your house has experienced Covid symptoms in the last 7 days then please do not attend your enrolment appointment. You can contact our enrolment hotline and the team will arrange, where possible, for you to have a telephone appointment.
Enrolment appointments can be made by calling our dedicated call centre.
Enrolment Hotline 01484 437100
Available from Monday 10 August 2020
Monday to Thursday 9am to 6pm and Friday 9am to 4.30pm
We are here to help you. If you have any questions or queries, please contact a member of our team who will be happy to help and guide you through this process.
If you've just received your results and haven't secured a place on a course, don't worry, we are here to help. Call our Enrolment Hotline now on
01484 437100
or
email now
.
Please bring the following items to your enrolment appointment:
Pen
Proof of ID (We will accept Birth Certificate, Passport, Driving Licence or National Insurance Card.)
National Insurance Number
Results slips or certificates of previous study
Evidence of settled status in UK – Evidence of your status will be required if you have not lived in the UK/EU for three years or more (passport, ID, visa status).
Please also bring with you at least one of the following items:
Follow us on Social Media