Kirklees College is situated in the heart of West Yorkshire and boasts seven specialist centres across the Kirklees region, making it one of the largest further education providers in Yorkshire. Each of our centres are unique and include two main centres in Huddersfield and Dewsbury, and specialist centres for construction, engineering, process manufacturing, animal care and higher education and skills.  
Kirklees College is uniquely vocational and offers a wide range of 16 – 18, higher education, adult courses, T Levels and apprenticeships taught by industry experienced tutors to provide students with hands-on experience in their chosen career path.
As well as full-time and part-time study programmes, Kirklees College is one of the leading apprenticeship providers in the UK. Each year, we train over 1,000 apprentices with over 1,000 employers. In 2023, we were proud to be ranked in the top 10 further education colleges for apprenticeship achievement in England.  
We are also one of the region's top training providers for professional courses and work closely with a wide range of national and local businesses to offer training opportunities for employees.  
Creating Opportunities, Changing Lives
A college at the heart of its community providing inspirational teaching and ensuring curriculum is developed with employers, enabling all students to progress.
Kirklees College welcomes all students who want to learn. The college has a common set of key values for both students and staff that are at the heart of everything we do. The values define who we are and how we behave and interact with each other making Kirklees College a vibrant, inclusive, educational experience.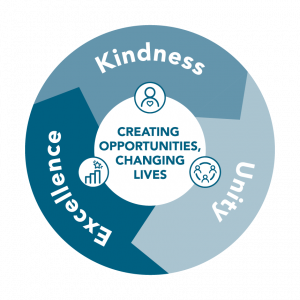 An honest and compassionate approach to ourselves, our people and our environment
Embrace a spirit of appreciation and helpfulness
Be respectful and considerate to our Kirklees College Community
Speak the truth with courage and professionalism

A shared purpose across our Kirklees College Community
Collaborate for the common good and celebrate success
Establish positive trusting relationships
Build connections to share our ideas, information and knowledge

A culture of high aspiration, expectation and success
Take ownership and be ambitious
Encourage determination and innovation in others
Always seek to develop and improve performance
Strategic Goals 2022-2025
An excellent culture in which to work and learn.
A dynamic interconnected digital learning experience
A fantastic student learning experience with great outcomes
Strong, sustainable financial performance
Recognised by employers and students as the provider of choice in Kirklees for higher technical skills.
Every centre demonstrates strong civic responsibility
We play an influential role in combating climate emergency
Cum sociis natoque penatibus et magnis dis parturient montes, nascetur ridiculus mus. Nullam id dolor id nibh ultricies vehicula ut id elit. Aenean eu leo quam. Pellentesque ornare sem lacinia quam venenatis vestibulum. Cras justo odio.
Our senior leadership team is made up of a collection if dedicated staff members who strive on a daily basis to deliver the highest quality across our teaching, learning, support and college life as a whole.
Take a lcose look at the team and contact them with any of your questions or concerns.
We are extremely proud of our College Community consisting of over 1000 highly experience, dedicated staff teaching up to 13,000 students, of which 4,000 are full time.
There is a wide breath of diversity in our student community and we encourgae all of our students to get involved in college life.
Kirklees College: Together We Are Mighty
The College Corporation is responsible for the overall functioning of Kirklees College. The Corporation oversees the college's strategic direction, financial performance and quality of service provided to learners and the community.
Open days are an excellent opportunity to get a real feel for what our college offers, from courses to fantastic facilities and passionate teaching staff.
Want to know what it is like to be part of the KC Community? Kirklees College offers an educational experience that goes beyond the classroom. As well as gaining a qualification, our students will have opportunities to meet new people, learn new skills and gain work experience.
Download and read a poem written by our staff
You are at the heart of Kirklees College
The new Pioneer Higher Skills Centre is now open, with fantastic facilities available, including a coffee shop, creative workshop, photography studio and much more.
Discover more about the support available at Kirklees College.
Watch our virtual tour of the Huddersfield Centre, our £70m modern centre offers world-class facilities over nine floors. 
Follow us on Social Media