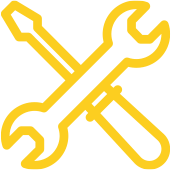 APPRENTICESHIPS
Apprenticeships at Kirklees College
Apprenticeships are designed alongside our employer partners to reflect the needs of industry and our structured programmes help you get the skills you need to succeed in your role. As an Apprentice you will be working towards a qualification, studying the technical skills, and learning how to apply them in practical assessments.
As well as achieving a nationally recognised qualification, as an Apprentice, you will also receive a wage. Anyone over 16 and not in full-time education can apply for an Apprenticeship. Programmes can take between one and four years, depending on the level of study and the sector. Talk to us to find out more and see if an Apprenticeship is right for you.
We have a large number of vacancies just waiting for you. If you are looking to learn while you work then these could be perfect for you.
ANELLO PIZZA
Commis Chef Apprenticeship Lv2
Level 2
We are ANELLO, a small family run wood fired pizzeria with rotating seasonal …
Closing date
08/01/2024
Build the Future with Kirklees College
Kirklees College is one of the leading Apprenticeship providers in the UK
Our apprentices are employed at over 1,000 companies throughout West Yorkshire
Each year we train over 1,000 apprentices in over 30 occupational areas.
We're always here to support you
Where an apprenticeship can take you? Find out more with Kirklees College
Find out what Kirklees College students have to say about their experiences as an apprentice.
I chose an apprenticeship as I wanted to get more hands-on experience. I am also earning money at the same time as learning the skills I need to be a hairdresser. I have had the best support from my employer and from college. They have both supported me by breaking things down to help me with what I found trickiest both in the salon and at college. Both are now helping me through my Level 3 as I want to excel in my apprenticeship and pass the exam to the best of my ability.
I began my apprenticeship because I wanted a career change but didn't want to go back into full-time education. I also really liked the idea of learning whilst I was earning money. Before I finished my apprenticeship, I received a promotion from Apprenticeship Administrator to Account Handler. I have really enjoyed my apprenticeship and I am looking forward to furthering my career.
My apprenticeship allows me to earn money whilst also getting hands on experience in my Lab Technician role! Due to the nature of my job, no two days are the same which is something I really enjoy. The college have been really supportive of my development and have funded several courses to help me develop professionally! I couldn't recommend an apprenticeship enough.
When applying for a job I have found a lot of employers prefer you to already have experience. I chose an apprenticeship as it still gives me the chance to study and learn while also giving me that on the job experience that I need. My apprenticeship really stood out to me as it's a subject that I'm already familiar with and enjoy. Even though I had the skills I wasn't sure what next step to take - finding this apprenticeship has really helped me gain understanding of what career paths are available to me and my skills and how to apply them in a real working environment.
I chose an apprenticeship as it allows me to upskill, whilst performing a proper job with set duties and responsibilities. I'm enjoying earning money whilst learning new skills. I enjoy being a part of the workforce in the college and getting actively involved in conversations and offering my perspective, as well as assisting other members of staff across the college.
I chose a Motor Vehicle apprenticeship because I have always been interested in cars and how they work. I want to go to university in the future to study Motorsport Engineering which this apprenticeship will hopefully help me achieve. The facilities are great at the college with a large variety of specialist equipment and tools. The staff helped me understand what they do and how to use them. Both the college and my employer have supported me throughout and helped me massively when I was studying for my end point assessment.
My journey over the past three years has been very educational. I have learnt a lot about the trade through my tutors at college and and the senior fabricators at my workplace. I also learnt about the specific processes and products at the company.
An apprenticeship was the best option for me because I was able to learn both at college and in a workplace, whilst gaining work experience and being paid! Everyone at the college and Accu have helped me throughout the course and have always been there to answer any questions or to provide support. Now that I have finished my apprenticeship, I have been offered a permanent position at Accu and I can't wait to continue my professional journey with them.
Conservative MP Mark Eastwood Talks Apprenticeships and Kirklees College with Apprenticeship Minister Rob Halfon
Watch as Mark Eastwood MP, Conservative MP for Dewsbury, Kirkburton and Denby Dale, meets with the Apprenticeship Minister, Rob Halfon, to discuss the importance of apprenticeships and our collaboration on the annual Apprenticeship and Skills Fair.
Everything you need to know
Follow us on Social Media