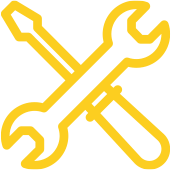 APPRENTICESHIPS
Apprenticeships at Kirklees College
Apprenticeships are designed alongside our employer partners to reflect the needs of industry and our structured programmes help you get the skills you need to succeed in your role. As an Apprentice you will be working towards a qualification, studying the technical skills, and learning how to apply them in practical assessments.
As well as achieving a nationally recognised qualification, as an Apprentice, you will also receive a wage. Anyone over 16 and not in full-time education can apply for an Apprenticeship. Programmes can take between one and four years, depending on the level of study and the sector. Talk to us to find out more and see if an Apprenticeship is right for you.
We have a large number of vacancies just waiting for you. If you are looking to learn while you work then these could be perfect for you.
Build the Future with Kirklees College
Kirklees College is one of the leading Apprenticeship providers in the UK
Our apprentices are employed at over 1,000 companies throughout West Yorkshire
Each year we train over 1,000 apprentices in over 30 occupational areas
We're always here to support you
Where an apprenticeship can take you? Find out more with Kirklees College
Find out what Kirklees College students have to say about their experiences as an apprentice.
This apprenticeship is giving me the skills to be able to work on-site, get a qualification and progress my career. You're getting paid to do it aswell.
College has supported me the whole way. I've progressed further from level 2 to level 3. I'm learning valuable skills all the time that I can use in the workplace.
I reall enjoy my apprenticeship at Accu. I get lots of support from my employers and in college where there is a real sense of community. I can't recommend an apprenticeship enough, I learn so much on the job and I'm getting paid.
As an apprentice you get all three things you need for a great start to a career - experience, qualifications and money. It's a brilliant choice.
My buiness administartion apprenticeship has been a great way for me to get some office experience straight after leaving university. A lot of the things I learn in college transfer directly to my apprenticeship at Accu, and have really helped me quick get a grasp of my role.
My employer believes in me, and wants me to develop my skills and career. They have invested a lot of time into making sure I am an integral part of the team and get all the training I need to be able to do my job effectively. I couldn;t have asked for more.
Everything you need to know
Follow us on Social Media