Springfield Sixth Form Centre
Springfield Sixth Form Centre
Bradford Road, Dewsbury, WF13 2NP
You are at the heart of Kirklees College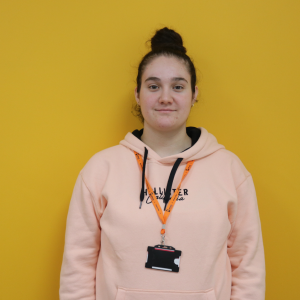 Kirklees College welcomes a range of students from different backgrounds and countries. One such student is Eriona Hasanaj, who started studying ESOL at Kirklees College, and after completing a Level 1 course, progressed on to the Level 2 Business course at the Springfield Sixth Form Centre.
Eriona migrated two years ago to the UK with a desire to gain a qualification in Business. She aspires to eventually go to university to complete a law degree and pursue a career as a solicitor.
Speaking about her experience at the college, Eriona expressed how easy it was for her to integrate into college life, commenting:
"The online resources are really useful and easy to use. I felt comfortable in the college environment and supported by the teachers. I was impressed with facilities available to students and the fact that the centre is close to home is also a bonus."
Eriona mentioned that the most valuable experience she has undertaken on the course so far is working on a project using Lloyds Bank as a case study, where students had to analyse their campaigns before presenting the findings.
Eriona also expressed that the course has given her a massive confidence boost and helped her to improve her communication and writing skills.
When asked what advice she would give to students in a similar position or wanting to study this course, Eriona said:
"I would recommend this course as it has helped to improve both my confidence and knowledge. The teachers, resources and overall centre are all amazing and you won't regret coming here. If you believe in yourself and work hard, you can achieve anything set your mind to."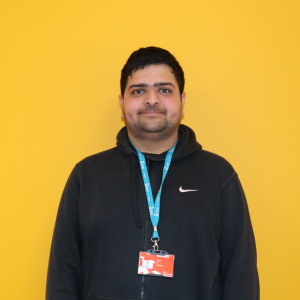 Wasif Ali is currently studying Level 2 Business at the Kirklees College Springfield Sixth Form Centre based in Dewsbury. Originally from Hong Kong, Wasif came to the UK a year ago with the goal of gaining a qualification in business. His passion for business stemmed from watching entrepreneurial TV shows, such as 'The Apprentice'.
Through exploring all different aspects of business on his course, Wasif has decided to embark on a career in Human Resources. When asked why he chose to study at the Springfield Sixth Form Centre, Wasif spoke about how he is able easily to travel to and from the centre and is easily accessible via public transport. Wasif praised the extensive resources at the centre, including the eBooks available through the library online resources.
Wasif's communication skills have vastly improved since starting the course. When discussing how he has gained confidence through this course, he said: "When I first started Kirklees College, I wasn't sure what to expect but the teachers support and resources available have helped to develop my confidence and made me feel like choosing to study business was the right decision for me."
After finishing the Level 2 Business course, Wasif plans to progress on to the Level 3 course at Kirklees College, before eventually going to University to study Business Economics or Human resources.
When asked what advice he would give to all future students looking to study at the Kirklees College, he suggested: "Test the waters when you first start your course. If you feel like the course might not be for you, you can always swap on to another course. There are lots of options available!"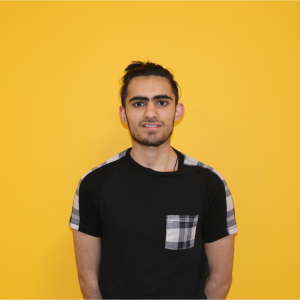 We caught up with our current learner, Shaan Ali, who is undertaking a Level 3 Business course at the Springfield Sixth Form Centre. Shaan started at Kirklees College studying the Level 2 Business before progressing to the Level 3 course.
The course has allowed Shaan to develop his personal interest in business management and one day hopes to own his own business buying and selling cars. Shaan spoke about how the course has helped him gain key skills to help him achieve his career goals, including confidence, presentation and communication skills. His most valuable experience at the college was at the Christmas market stalls held in Dewsbury town centre, where students had the unique opportunity to sell items to the public. He spent his day selling wigs to customers. Speaking about what he learnt from the experience, he said: "It was great to get some real-life experience to gain practical skills and learn how to improve my customer service skills."
He credited Kirklees College for helping him to grow as an individual and is looking forward to utilising the skills and knowledge he has gained from the course in the real world. Advising all future students, Shaan expressed how his experience at the Kirklees College has been amazing and said: "If you are nervous, don't be; the teachers are supportive and will help you throughout the course. Although the course is not easy, the facilities, resources and the support provided have allowed me to achieve great results."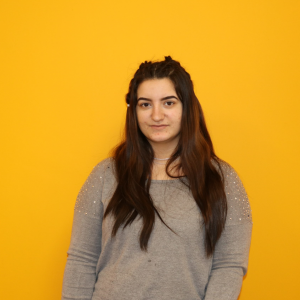 At Kirklees College, we love to discover the journey that our learners are on and catch up with how they are doing at the college. We welcome students from various backgrounds; one such learner is Anasztazia who chose to embark on the Business Level 3 course at the Kirklees College Springfield Sixth Form Centre.
Anasztazia has been enthusiastic and passionate about business from a young age. She hopes to go on to university and study a Business Management course and eventually go on to work in an enterprise managing a team of people. She also mentioned how travelling to and from the college is easy and convenient, as the centre is easily accessible by public transport.
She complimented the teachers and spoke about how the invaluable support she has received throughout her time at the college has helped shape her into the individual she is today, commenting: "I have received the best support from the teachers that have helped me to gain the right skills and experience I need to excel in my career. This course will provide me with a strong foundation to be able to succeed at University and in my future career."
Anasztazia's goal for the future is to start her own business and said that that course has allowed her to become more independent. She spoke on how the college has a good number of students, so all students receive the support they need from staff.
When asked what advice she would offer to other students wanting to study at Kirklees College, she said: "College is an amazing experience, it's where you receive the skills and qualifications you need to pursue the career of your choice. I'm really glad I chose Kirklees College as the teachers really take their time with you to ensure you get the support you need."
More About Springfield Sixth Form Centre
Charum quidem rerum facilis est et expedita distinctio. Nam libero tempore, cum soluta nobis est eligendi optio cumque nihil impedit quo minus id quod maxime placeat facere possimus, omnis voluptas assumenda est, omnis dolor repellendus. Temporibus autem quibusdam et aut.
Charum quidem rerum facilis est et expedita distinctio. Nam libero tempore, cum soluta nobis est eligendi optio cumque nihil impedit quo minus id quod maxime placeat facere possimus, omnis voluptas assumenda est, omnis dolor repellendus. Temporibus autem quibusdam et aut.