National Apprenticeship Week 2021
We are celebrating National Apprenticeship Week 2021, which is taking place from 8 to 14 February. As part of this year's theme 'Build the Future', the college is showcasing how Apprenticeships have helped employers and people of all ages and backgrounds across Kirklees.
Kirklees College is one of the leading Apprenticeship providers in the UK
Each year we train over 1,000 apprentices in over 30 occupational areas
Our apprentices are employed at over 1,000 companies throughout West Yorkshire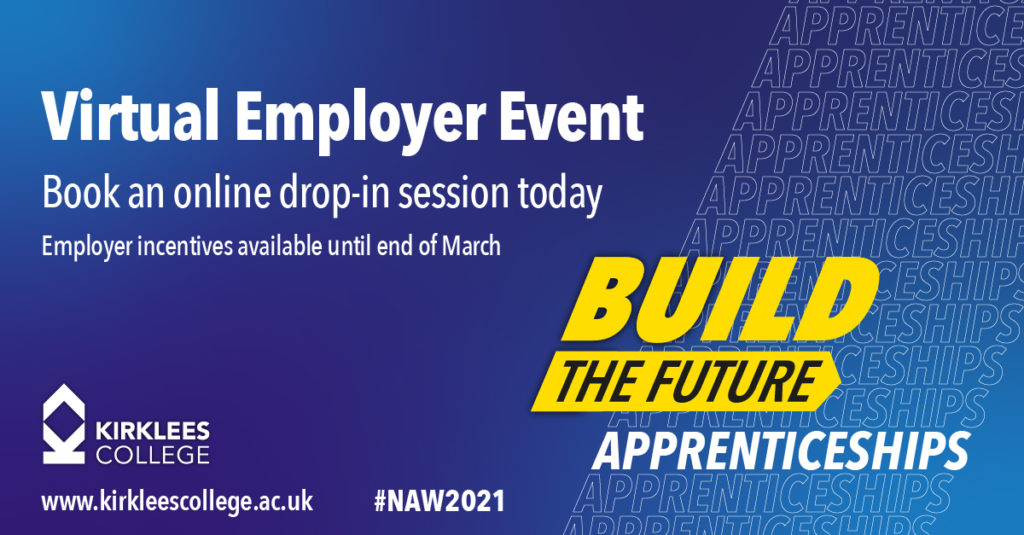 Virtual Employer Event
Are you an employer and want to find out more about Apprenticeships? Book a 30 minute session with our Employer Engagement team during National Apprenticeship Week (Monday 8 February to Friday 12 February 9am to 5pm)
Email
employers@kirkleescollege.ac.uk
 or call 0800 781 3020. Employer incentive available until 31 March 2021.
Meet some of our Employers
Apprentice Case Studies
Over the last 12 months we have been extremely proud of all our apprentices and how they have stepped up to the challenge during this unprecedented time.
Apprentice Video Case Studies
Tyler Roberts started his Apprenticeship journey in 2016 by successfully completing an Entry-Level Motor Vehicle course at Kirklees College.
Laura studied with Kirklees College on an Apprenticeship in Digital Marketing at Marshalls. Laura demonstrates how positive a change in career can be later in life.
Josh studied towards his Engineering Apprenticeship with Kirklees College and is now flying high, working for the company who supported him throughout his apprenticeship.
Shannon chose an Apprenticeship to get started in the Motor Vehicle industry and wants to progress to a Senior Technician role in Vehicle Maintenance and Repair.
Nhicol chose an Apprenticeship so he could get hands-on experience, get paid, and gain a qualification in Mechanical Engineering.
Jessica has undertaken a Hairdressing Apprenticeship. Find out why she chose the apprenticeship route and what advice she would give to others considering this pathway.
Follow us on Social Media