Our 14 – 16 programmes offer an alternative curriculum designed for students in Years 10 and 11 who have experienced difficulties engaging in mainstream education, and school may no longer be the best option. The programmes provide a clear pathway into post – 16 education with an individualised study programme to equip young people with the necessary skills and qualifications to progress to higher level study, apprenticeships and employment.
The programmes provide opportunities for young people to study from our wide range of vocational courses alongside 16-18-year olds on an infill basis. This allows us to provide the breadth of choice available through our Further Education offer to create bespoke study programmes for each student, and tailored to their individual needs.
For referrals and more information on the programmes available, please contact our Schools Liaison Team.
This transition programme is aimed at students in Year 11 who are struggling to identify an appropriate post-16 course or are at risk of becoming NEET. Developed alongside our partner schools, it provides the opportunity for students to participate in vocational tasters to help familiarise them with the college environment and support them in their progression. The course activities include a range of accredited personal, social development and employability skills.
The Introduction to College Life (Pre ECT) programme is designed for Year 10 students who may be disengaged and/or already identified by their school as potential ECT students in Year 11. This provision offers students one to two days each week in college on an infill basis alongside 16-18-year olds. The transition programme includes a range of activities in vocational areas such as Motor Vehicle, Hair and Beauty, Construction, Animal Care, Public Services and Sport to introduce students to the College environment and support them to make the correct choice of ECT study programme in Year 11.
This full-time provision provides Year 11 students who want to pursue a vocational pathway with recognised and accredited qualifications to progress to post-16 study. Students attend college for three days each week and are infilled into a post-16 group in a vocational subject area of their choice – typically at Level 1. Students will develop their skills in English and maths at a suitable level alongside their vocational subject. The students will remain on school role and the home school are responsible for organising any additional learning or work experience for the student on days when they are not in college.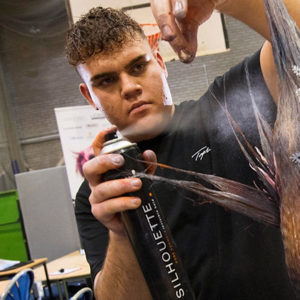 Early College Transfer
Level 1 Diploma in Hairdressing
"I enjoyed everything about the course and felt that it gave me new skills and confidence. I would recommend Kirklees College as the college environment was very positive and the tutors were supportive and helpful. I was given so many opportunities, one being acting as a tutor when a school came into visit and teaching the other young people what I had been learning.
My time on work experience has led to me gaining some paid work, where I now have my own clients and have received great feedback which is down to all the knowledge and skills that the college has helped me to develop. I look forward to starting my new course in September in Level 2 Hairdressing".