CORONAVIRUS ADVICE FOR STUDENTS, PARENTS AND CARERS
COVID Secure Risk Assessment
Our risk assessment has been compiled with the use of Government advice to ensure we have suitable and sufficient control measures in place to keep you safe.
Download Now
7 September 2021 - Kirklees College NHS COVID-19 Vaccination Grab-a-Jab Pop-Up
In support of the national campaign to vaccinate all 16 and 17 year olds, Kirklees College is hosting NHS COVID-19 Vaccination Pop-Up Sessions week commencing Monday 13 September.
The vaccination pop-ups will be located at the following centres:
Huddersfield Centre (Landings 72) – Monday 13 September
Springfield Sixth Form Centre (Refectory) – Tuesday 14 September
In order for us to reach as many students as possible, there will also be a mobile clinic operating at our other centres on the following dates:
Brunel Construction Centre – Monday 13 September
Engineering Centre – Monday 13 September
Taylor Hill Animal Centre – Tuesday 14 September
The vaccination pop-up is open to all Kirklees College students, including apprentices, aged 16 and 17 years who have not yet had their dose of the COVID-19 vaccine.
Appointments can be booked through https://tinyurl.com/kirkleescollege.
It is also open to students who are 17¾ years and older, and those aged 16 and 17 years who are at higher risk of serious COVID-19, who are eligible for their first or second dose. (Second doses are 8 weeks or more after the first.)
All students have been sent information from the college about the vaccination pop-up, how to access it and sources of further information. See a copy of the letter here.
Information has also been emailed to parents/carers. See a copy of the letter here.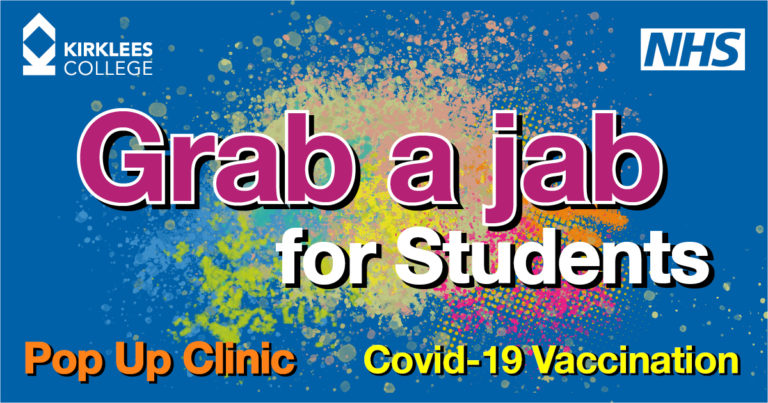 6 September 2021 - Choose to Be Kind - Think of Others at Kirklees College
As the new academic year is starting we are asking all our students and staff to be KC Kind. Please watch this short animation to find out more about the Covid-19 precautions we have in place #BeKind
24 August 2021 - COVID-19 guidance for new and returning 16-18 students
As we continue to follow government Covid-19 guidance, we need to ensure that all students receive an on-site Covid-19 test before term starts on Monday 6 September. To assist with this, we have opened two Covid-19 test centres at our Huddersfield Centre in Landings 72  and Pioneer Higher Skills Centre in Starbucks.
We are asking students who attend our Huddersfield Centre, Brunel Construction Centre, Taylor Hill Animal Care Centre or Engineering Centre to book their test at the Huddersfield Centre.
Please can all students who attend Springfield Sixth Form Centre book a test at the Pioneer Higher Skills Centre.
If you have tested positive for Covid-19 in the last 90 days you do not need to book a test but you will be required to confirm this to us at the start of term.
Click below to see the location of Huddersfield Centre, please arrive from the canal / Chapel Hill side of the building to access Landings 72.
https://www.kirkleescollege.ac.uk/centres-facilities/huddersfield-centre/
Click below to see the location of Pioneer Higher Skills Centre. Please enter from the back of the building to arrive at Starbucks.
https://www.kirkleescollege.ac.uk/centres-facilities/pioneer-higher-skills-centre/
To book an appointment for your test, please click the link below. Appointments start on Wednesday 1 September and are every 15 minutes. Please arrive on time with a face covering and leave as soon as your test is complete.
https://bookwhen.com/kirkleescollegecovidtesting
If for whatever reason you are unable to book a test, as a minimum requirement you must take a Covid-19 lateral flow test at home or visit a community test centre at either Huddersfield Bus Station (Open weekdays between 9am – 5pm and Saturdays 9am – 4pm) or Batley Town Hall (Open weekdays between 9am – 5pm and Sundays 9am – 4pm).
Please set up your NHS account using your college email so that we receive confirmation you have completed your test.
Student ID number@kirkleescollege.ac.uk
(your student ID number is the number on your college ID badge or applications information e.g 1347920@kirkleescollege.ac.uk)
If you would like any further help or guidance please call 01484 437100.
Thank you for playing your part to keep Kirklees College safe.
The DfE has now issued the Covid-19 Operational Guidance for FE Colleges following the Step 4 announcement by Government. We are going to continue with our Covid precautions throughout the summer and enrolment period. Further details will be released through regular communications throughout the summer to keep all staff and students briefed on our preparations for September.
Continued Covid precautions at Kirklees College:
Face coverings must still be worn on college sites
Maintain social distancing
Do not attend college if you have any Covid-19 symptoms, been identified as a close contact or if you been advised to self-isolate
Continue to test twice-weekly using a lateral flow home test kit and test negative prior to coming into college
Visitors attending site are still required to complete a Covid-19 Visitors Form and are required to test prior to attending site
Continue to use the hand sanitising stations at building entry points and practice good hand hygiene regularly throughout the day
There has been an important local change in the guidance regarding face coverings in classrooms. Across all schools and colleges in Kirklees, all students and staff are being asked by the Local Authority Public Health Team to continue to wear face coverings in classrooms until Covid-19 infection rates locally are lower and the vaccination programme has progressed further.
There is evidence that face coverings do work to reduce transmission in enclosed spaces. It remains as important as ever to maintain all the other control measures, including social distancing, hand hygiene and regular testing. Please continue to make sure that anyone with symptoms self-isolates and gets tested.
Following the Government announcement of the Step 3 easing of Covid-19 restrictions from 17 May, the DfE has released updated guidance for all schools and FE providers.
Face coverings in classrooms will no longer be mandatory but it is an individual choice to continue to wear a face covering. Face coverings should still be worn when moving around college sites and in communal areas.
Face coverings will remain mandatory in workshops and vocational training areas in line with government and industry-specific guidance. Social distancing measures are still in place and should be followed at all times.
The college risk assessment has also been updated and can be found HERE
A quick guide to keep you and colleagues safe in the workplace
Everything you need to know about reporting Covid-19 related absences
Guidance on isolation due to Covid -19 symptoms whilst at College
KC Connect Student Support Newsletters
The Latest Letters From The Principal
Follow us on Social Media