CORONAVIRUS ADVICE FOR STUDENTS, PARENTS AND CARERS
COVID Secure Risk Assessment
Our risk assessment has been compiled with the use of Government advice to ensure we have suitable and sufficient control measures in place to keep you safe.
Download Now
From Monday 8 March, we will be inviting some of our students back in to college. Students must only attend if they have been invited to do so and will be contacted this week to confirm. All other students must continue with remote learning. Further information to follow on the requirements for Covid-19 testing.
Further to the Prime Minister's Roadmap outlined yesterday, we are very pleased to be able to invite more of our learners and staff to return to college in person from 8 March.
Kirklees College will be maintaining all of the previous COVID-19 precautions of 'Hands Face Space' and we will also require students and staff to be tested regularly. Further details will be released nearer the time as students are invited to attend.
We look forward to seeing you all soon.
Further to yesterday's government announcement Kirklees College will remain closed to the majority of learners until at least 8 March. Further information will be available during w/c 22 February.  All students to continue with online learning and check college email and VLE for regular updates.
We request that anyone who is coming into college should have a Covid-19 test at one of the Kirklees community testing centres. Find your nearest testing centre using the following link: https://kirklees.maps.test-and-trace.nhs.uk/findatestcenter.html
Following latest Government instruction in response to the Coronavirus outbreak, all Kirklees College sites are now closed until at least Monday 15 February 2021. We will continue to work hard to ensure that all our students are supported in their remote learning at this very difficult and challenging time.
For now, our message to staff and students is to stay at home unless you need to be in college. The only staff that need to be in college at the moment are those supporting the BTEC Exams during January, those that are involved in the delivery of provision to support our vulnerable learners and those required to maintain essential facilities and services. The college will remain open for exam students and vulnerable students.
Further to the Government announcement yesterday, we would like to confirm the following details.
w/c Monday 4 January –  No face to face teaching will take place at Kirklees College this week. Students, please do not come into college. All learning will move online where possible.
IMPORTANT – If you have an examination next week, it will go ahead and you will be contacted to confirm arrangements.
We hope you stay safe over the festive period and enjoy your well-earned break. Kirklees College will be closed from 9pm on Thursday 17 December.
Please remember if you test positive or develop symptoms during or after the festive period, you need to get a test and follow the advice provided by NHS test and trace service for self-isolation before returning to college and notify your manager/tutor at the earliest opportunity.
If you are displaying any COVID-19 symptoms, please do not return to college and follow the usual absence procedures.
Thank you to the students and staff who continue to follow our face covering policy. We are mindful that our young people have spent months out of education and our first approach to addressing student behaviour is to have a coaching conversation, explain the potential risks and the breach of college policy. Students who do not have a face covering will be offered one at entry to the college and those who refuse to wear a covering will be dealt with in line with college policy. Students who are exempt have been issued with an exemption card. Our guidance on wearing face coverings is as follows:
All students must wear a face covering at all times outside the classroom. Face coverings must be put on before leaving a classroom and worn at all times in communal areas, including corridors, refectory, atrium, break out and reception areas. It is vital that face coverings are worn correctly.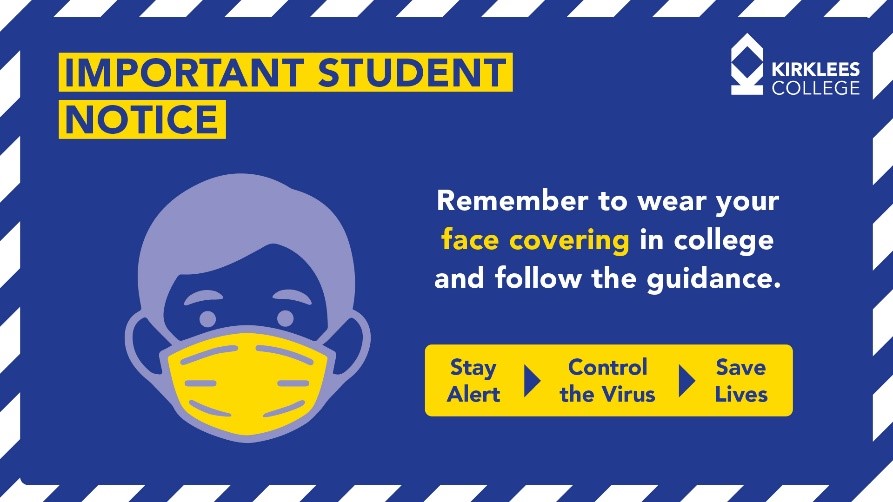 From Monday 2 November, there will be new arrangements in place for students coming into college for face to face teaching.
Please read the letter from the Principal outlining these details below.
Letter To Students – Click Here
Letter To Parents – Click Here
We are asking all students and staff to wear a face covering whilst moving around our college centres and in communal areas, such as refectory and reception. Face coverings are not required during teaching/classes unless specialist PPE required, which will be provided.
There are 3 simple but effective ways we can all help prevent the spread of coronavirus:
• Wash your hands
• Wear a face covering
• Make space
If you have symptoms, book a test: nhs.uk/coronavirus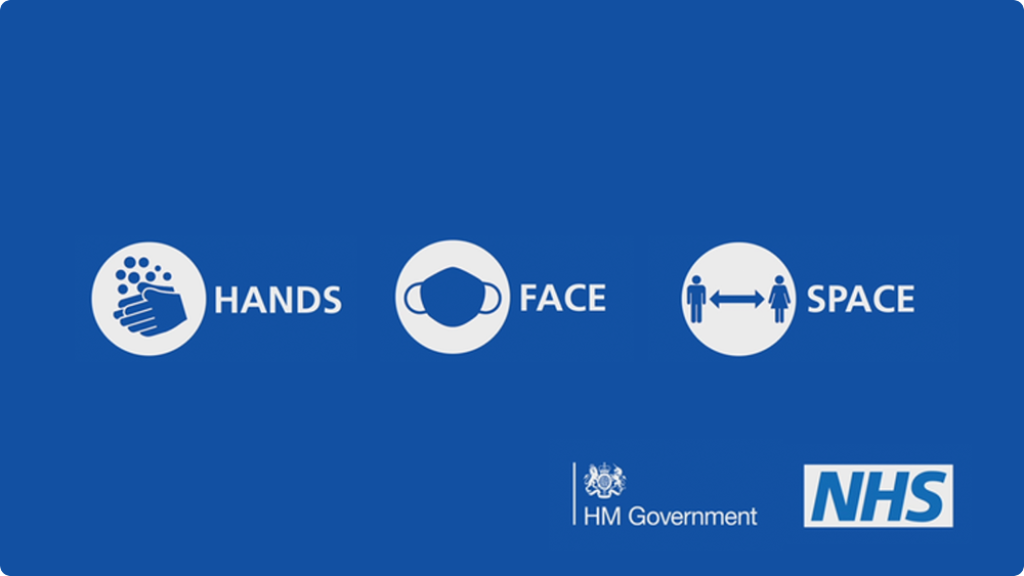 A quick guide to keep you and colleagues safe in the workplace
Everything you need to know about reporting Covid-19 related absences
Guidance on isolation due to Covid -19 symptoms whilst at College
KC Connect Student Support Newsletters
KC Parent Pals Newsletters
The Latest Letters From The Principal
Follow us on Social Media